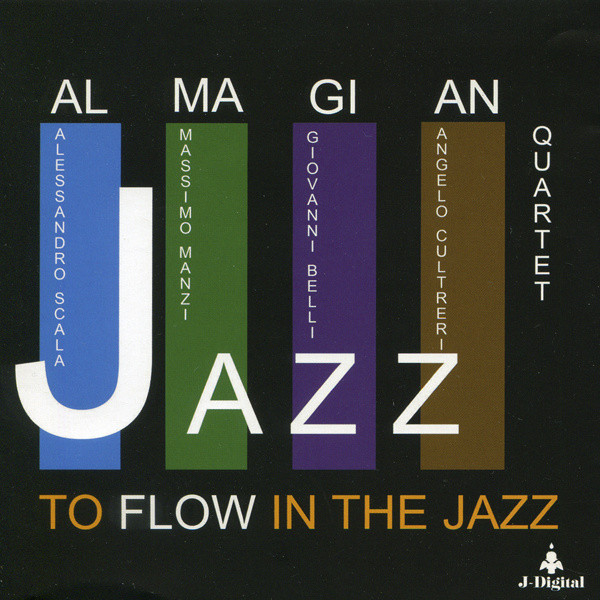 BIO
Alessandro Scala is the "key-member" of the AlMaGiAn Jazz Quartet.
He approached music as a child when he studied the Clarinet, then the Saxophone and the Piano.
He studied jazz on his own initially, then started attending lessons given by the Saxophone player Fabio Petretti and seminars by mucisians such as Jerry Bergonzi, Bob Mintzer, Joe Diorio, Steve Grossman, Bob Bonisolo and Guido Mansuardi.
He has participated in groups playing music in various genres (Jazz, Bossa Nova, Funk, Blues) in Lounge, Blues and Jazz festivals and has collaborated with a long list of musicians and bands, both national and international. Just to name a few:
Bob Moses, Joe Garrison, Marilyn Mazur, Bruno Tommaso (in the show entitled "Il Vento"), Eugenio Colombo (Musica in gioco), Ti Sha Man Nah sax quartet, Jimmye Owiens, Piero Odorici and Marco Tamburini.
Alessandro was also part of the "Big Band" conducted by Maestro Davide Di Gregorio, thus working with Italian singer/songwriters such as Antonella Ruggero e Andrea Mingardi.
Since 2000, Alessandro has collaborated with the well-known lounge hammond organ player Sam Paglia, dj Eddie Piller (Mojo Club producer) and Farrapo.
"To flow in the jazz" (P&C 2009 j-digital) is his second album, born from the collaboration of Alessandro with Massimo Manzi, Giovanni Belli and Angelo Gualtieri, … the Almagian jazz quartet.
---
Compare in: 
---
LINKS
---